Your meeting's running long, your work is piling up, and the guy who most needs to hear what you have to say is buried in his smartphone. Is he even listening? We are.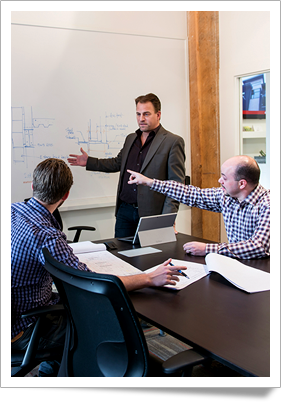 In fact, it's our commitment to you. Whether your outlook is economic, environmental, social or aesthetic, we have a passion for creating memorable spaces, places and experiences -- from
your
perspective.
Learning how we can articulate your idea is what we're all about. We customize the experience to your needs, knowing each project comes with its own set of challenges and solutions. Keeping our goals aligned to achieve your vision is integral to our collaborative process, and we can't wait to show you how we can help.
View more information on our Solutions:

adding value

we are different

meet the team
"In 400 metres, take the exit ramp and stay in the left lane. Turn right at the 4-way stop, then keep left at the fork. Make a U-turn where safe. Recalculating..."
In that infuriating moment your GPS system smugly nags you about a wrong turn, you wonder how such a friendly voice became your nemesis.
We don't believe in adversaries.
That's why we're your co-driver, not your backseat driver.
Architecture is about good design, sure, but it's also about guiding all stakeholders through the complex regulatory building process. We serve as your project's advisor, coordinator, technical manager and creative artist, while keeping our business relationships friendly and inclusive. Best of all, these services are just what we picked up at our first waypoint. The neomobile's packed with added-value services within our scope of expertise.
The construction process doesn't come with any shortcuts, but we can spare you the road rage.
You've seen them: the diligent separators; the border guards; the righteous conquerors of cross-contamination. Their peas had better not touch their potatoes. Some people like to compartmentalize. We prefer integration.
From concept to completion, your project gets dedicated professionals.
And we mean
dedicated.
Your neo team gets to know you and your ideas. We tailor our approach to fit your vision and keep the team consistent. That way, you always know who has the solutions you're after. But leave our mashed potato and gravy volcano out of this; some things are sacrosanct.