Wouldn't it be great if you could see things to come? You'd avoid that lemon of a car, scoop up a winning lottery ticket, and stop yourself two slices of pizza ago. When it comes to your project, your window to the future opens with Building Information Modeling.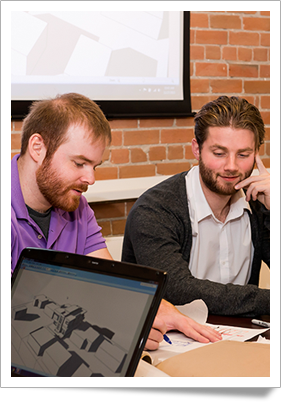 3D modeling lets you see it before you build it, to any desired level of detail. You get to experience movement through your space in animated walkthroughs, and learn what it feels like to be there. Each room can be rendered in gorgeous photorealism to show you every last element of the design: exterior elevations, interior spaces, hardware, furniture…everything and the kitchen sink. Literally. But it's not just pretty pictures. BIM is an important part of our integrated project delivery approach; we collaboratively harness the talents and insights of all stakeholders to optimize results.
The process eliminates many of the uncertainties during all phases of design and construction, better enables sustainable design, and improves building performance. Potential issues are more easily identified and addressed before a shovel ever sniffs the ground; waste is reduced, accuracy & quality skyrocket and – most importantly – value is increased for the owner. It's easy to see why we bring BIM to each project.
Our approach keeps things efficient, flexible and cost-effective through:
Until we perfect the crystal ball, our BIM process runs a close second.